I. What is Streamr?
Streamr (DATA) is known as a Blockchain platform, designed with the feature of encrypting streaming data and parameters. Users can freely exchange digital content and interact with one another through a specific P2P network thanks to the Streamr protocol. Users can also quickly and easily construct dApps in real time without needing a lot of expertise or programming abilities.
In essence, Streamr works with numerous different Blockchains as an off-chain component. Streamr now uses Smart Contracts to help users with data exchanges and runs on the Ethereum network.
The ecosystem of Streamr creates a decentralized setting where anybody has the ability to post and consume data.
II. History of Streamr
Streamr is a decentralized platform that aims to enable real-time data streaming and analysis. The project was founded in 2017 by Henri Pihkala, Risto Karjalainen, and Nikke Nylund.
The idea for Streamr came from the founders' realization that there was a need for a decentralized platform that could facilitate real-time data streaming and analysis. They believed that the traditional centralized systems that were currently in use were not sufficient for the fast-paced and dynamic world of data analysis.
The Streamr platform is based on blockchain technology, and it allows users to share, monetize, and use real-time data streams in a secure and decentralized manner. The platform consists of three main components: the Streamr Network, the Streamr Marketplace, and the Streamr Engine.
The Streamr Network is a decentralized peer-to-peer network that allows users to stream data in real-time. The network is designed to be fast, scalable, and secure, and it uses a combination of blockchain technology, cryptography, and off-chain storage to achieve these goals.
III. Striking Features of Streamr
Rich dApp creation toolkit
This is regarded as a premier feature that people appreciate when using Streamr. The tools that Streamr created are really straightforward to use and accessible even if you don't have a strong background in programming.
The process of creating a dApp is quicker and simpler than on other platforms. Users can store, share, and process data after launching the dApp for a variety of purposes.
Easily linked to data of systems
Users can simply connect to data on various operating systems using Streamr. A quick and easy connection can be made using Streamr. A few of the platforms that Streamr links to are Apache Kafka, REST, and Amazon Kinesis.
Create your own API
On Streamr, users can build their own API. Simply tag and embed your assets in the Streamr system to accomplish this. In addition, Streamr gives users the freedom to change whatever API they want, whenever they want.
IV. Streamr's Ecosystem
Streamr's method of operation
Streamr operates through a system involving multiple participants, including publishers, brokers, and consumers, with data being sent in a proprietary Streamr format. Publishers send data to Streamr data streams, some of which is provided free of charge, while paid data sources can be purchased with DATA coin tokens. The Streamr network is operated by broker nodes, responsible for processing and communicating data with the Ethereum network. Through partitioning, each node processes only the data source for which they are paid, ensuring transparency and honesty. Reporting nodes monitor the work of each node to prevent bias, and any offending nodes are penalized. Smart contracts authorize contracts for data buying and selling, and monitor all activities during data transmission.
Streamr Stack technology structure
The five-layer technology platform that makes up Streamr's Streamr Stack consists of the Streamr Editor, Streamr Engine, Streamr Data Market, Streamr Network, and Smart Contract on Streamr, among other components.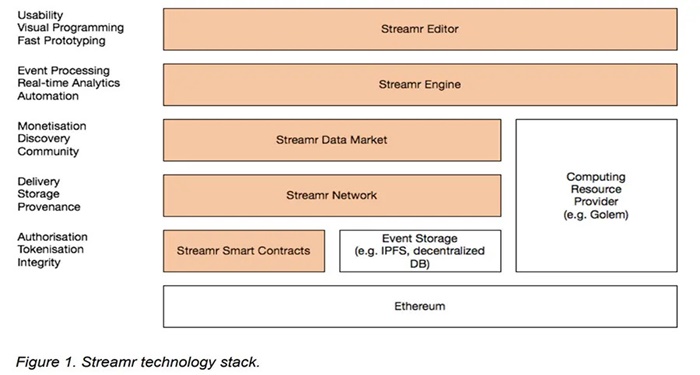 Streamr Editor
The Streamr version includes a development tools. The goal of Streamr Editor is to enable Streamr development. Streamr Editor's numerous templates for well-known apps make it easier to develop effective dApps and Smart Contracts. So, by using a pre-made form, the process of developing dApps and Smart Contracts is made simpler.
Data storage technology is also employed, and the Streamr development team thinks that the Streamr Editor will make it easier for everyone to participate, even those who are unfamiliar with Smart Contracts.
Streamer Engine
This program supports off-chain data analysis, processing, and customisation. It will be handled so that dApps and Smart Contracts can also utilise the raw data source. The information will then be filtered, downsampled, aggregated, and merged with other information. The data is then processed using sophisticated machine learning and pattern recognition models or anomaly recognition algorithms.
Streamr Data Market
The layer that regulates data transport is called Streamr Network. Numerous events, data streams, and broker Nodes are included in this Streamr Network. The network's information throughput is linearly correlated with the quantity of participating nodes. Streamr Network can therefore handle millions of events per second without experiencing any issues.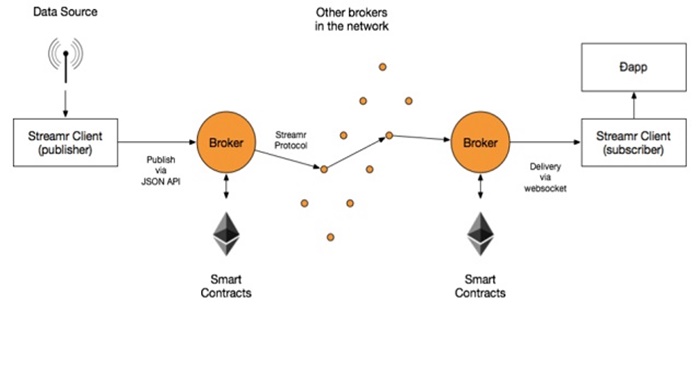 Smart Contract on Streamr
Smart Contracts are used by Streamr to protect network integrity. Streamr encourages, organizes, and approves platform integrity testing with Smart Contracts. The network-powered functionalities for data licensing and monetization are built upon in the data marketplace. In it, DATA coin is a currency that can be used for Streamr payments as well as incentives.
V. What is DATA?
1. Detailed Information about DATA
The official cryptocurrency on the Streamr platform is called DATA coin. In accordance with the ERC20 standard, DATA coin is also a launch token on the Ethereum platform platform.
Token Name: Chainlink.

Ticker: DATA.

Blockchain: Ethereum.

Token Type: Utility Token.

Token Standard: ERC20.

Total Supply: 989,154,514.

24 hour Trading Vol (February 25, 2022): $5,653,415.

Contract: 0x8f693ca8d21b157107184d29d398a8d082b38b76
2. DATA Allocation
Community Building: 2%.

Partners & Advisors: 3%.

Held By Streamr: 15%.

Founding Team: 15%.

Token Sale: 65%.
3. Use Cases of DATA
Streamr network services are paid for.

Real-time data exchange Rewarding those with a lot of trustworthy, high-quality data.

Encourage Nodes to join a P2P network by utilizing their time, power, compute, and bandwidth resources.

Encourage manufacturers to provide data so the network can expand.
VI. How to earn & own DATA?
A number of exchanges, including Binance, MEXC Global, WhiteBIT, KuCoin, Sushiswap, Honeyswap, Uniswap, Bancor Network, and others, now list and enable trading of DATA token. which sees the biggest trading of the DATA currency. 58.75% of the total trading volume took place on the Binance exchange. To purchase and sell DATA coin, you can refer to and pick one of the exchanges listed above.
VII. Which Crypto Wallets are suitable for DATA?
DATA is an ERC20 token. As a result, supported e-wallets like Metamask, MyEtherWallet, Trezor, Ledger, ImToken, Trust Wallet, Coin98 Wallet, etc., can be used to securely store it. Additionally, your wallet can be used to hold coins. Exchange for listing DATA coins.
VIII. Teams, Funds & Partners of DATA
1. Team
The team behind DATA includes experienced professionals in the fields of blockchain, data management, and software development. Henri Pihkala is the CEO and co-founder of DATA, while Risto Karjalainen and Nikke Nylund serve as CTO and COO, respectively. Other notable members of the team include Shiv Malik, the Head of Communications, and Weilei Yu, the Lead Engineer.
2. Investment Funds
DATA has received funding from several notable investment funds, including Fenbushi Capital, Outlier Ventures, and Blockchain Capital. In 2017, DATA raised $30 million in an initial coin offering (ICO) to fund the development of its platform.
3. Partners
DATA has formed partnerships with several companies in the blockchain and data management industries. Notable partners include Streamr, a decentralized platform for real-time data streams, and Ocean Protocol, a decentralized data exchange protocol. DATA has also partnered with the Finnish government to develop a blockchain-based solution for managing the country's energy data. Other partners include Streami, iExec, and BigchainDB.
Conclusion
The above is Waytrade's comment on the Streamr project which is our personal opinion, this is not investment advice at all. Investors should be responsible for their own decisions. 
___
Please continue to read new articles here about merchandise assessed by Waytrade.