I. What is Step App?
Step App is a protocol developed for FitFi. FitFi has emerged as the newest fashion in the cryptocurrency industry. Its key selling point is the integration of physical and digital processes. NFT and GPS technology are used to create a physical experience in the metaverse.
The first application created using this protocol is Step App. The purpose of the Step App is to:
Become the top 1 FitFi app.

Step metaverse volume on-ramps (to draw money into cryptocurrencies).

Recruit athletes or fitness influencers to serve as the Step App and Step protocol's brand ambassadors.
II. History of Step App
Step is a mobile banking platform that was launched in 2018. The company was founded by CJ MacDonald and Alexey Kalinichenko with the aim of creating a financial platform that would help young people build healthier financial habits.
Step began as a digital banking platform for teenagers and young adults, offering features such as no-fee spending accounts, mobile banking services, and a rewards program. In addition, Step also provided tools for parents to monitor their children's spending and set spending limits.
In 2019, Step secured $22.5 million in funding from a group of investors that included Stripe, Will Smith's Dreamers VC, and NBA player Kevin Durant. This funding allowed Step to expand its services and target a broader demographic.
In 2020, Step launched a new feature called Step Card, which is a Visa card that can be linked to a user's Step account. The Step Card allows users to make purchases online or in-store, and it also offers cashback rewards.
Step has continued to expand its services and partnerships since its launch. In 2021, Step partnered with financial services company Stripe to enable users to link their Step account to their Stripe account. This integration allows Step users to receive payments from customers and clients directly into their Step account.
Step has also partnered with several other companies, including Mastercard and Uber. The partnership with Mastercard allowed Step to provide its users with access to a network of over 30,000 surcharge-free ATMs across the United States. The partnership with Uber enabled Step users to earn cashback rewards on their Uber rides.
Unlock Vesting
Step App's monthly token unlock schedule: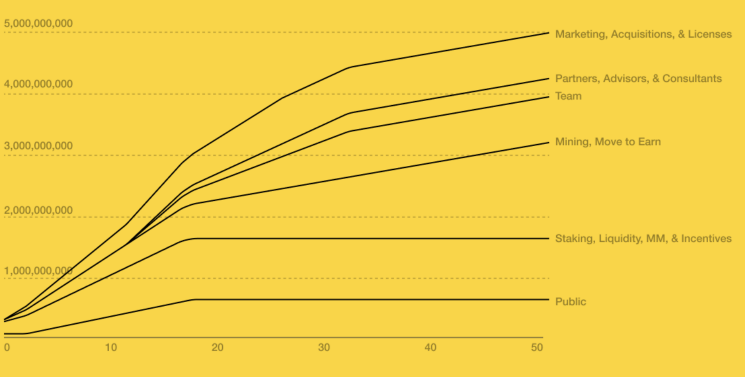 III. Striking Features of Step App
Stepn and Genopets are two of the existing FitFi products. Both were constructed on top of their own native systems. This reduces the effectiveness of FitFi experiences, raises the cost of development, and fragments the fitness market across several FitFi projects.
Step is prepared to provide any developer, team, or even a major brand with the GPS technology, NFT minting and trading capabilities, user onramp, tokenomics, etc. they need to create a FitFi web3 application.
Step addresses the issue of FitFi market rollout costs (StepN, Genopets, etc.). The parties use the Step SDK protocol to construct the Step Metaverse. FitFi's marketplace is built on the Step App. The ultimate in technology and the metaverse are what Step aims to give as an industry-leading platform.
IV. Core Technology of Step App 
The Step App aims to engage the community in Step's platform by providing an immersive, social, and competitive experience. The program places a strong emphasis on the user experience and develops a token emission mechanism depending on user engagement.
Augmented Reality:

User metaverse characters will develop based on player behavior in augmented reality.

Gamification:

enables gamers to mix active pursuits with local monetization and social interactions.

Monetization:

Players who finish missions and engage in physical activity will receive in-game incentives.

Game Economy
Join and earn
Micro-transaction: buy non-Sneak eg map styles, skins, etc. with credit cards or crypto from the shop.
Betting: Participating players can bet and play against each other, the winner will pay 2.5% fee.
Tournaments: Players can compete their steps on the global leaderboard. Participation in the tournament requires a ticket, the purchase of a ticket will create a prize system, the game will receive 5% of the tickets that have been accumulated.
Earn money from NFT
NFT marketplace: collects 2.5% fee for all transactions on the NFT marketplace and in the app.
NFT sales: Sneaks edition is limited edition and released by month.
V. What is FITFI?
1. Detailed Information about FITFI
Token Name: Step App

Ticker: FITFI

Blockchain: Updating…

Token Standard: Updating…

Contract: Updating…

Token Type: Utility, Governance

Total Supply: 5,000,000,000 FITFI

Circulating Supply: Updating…
2. FITFI Allocation
Public Sale: 14%

Staking, liquidity, MM and incentive rewards: 20%

Mining, and Move to Earn: 30%

Team: 15%

Partners, and advisors: 6%

Marketing, mergers, and business licenses: 15%
3. Use Cases of FITFI
Staking, locking, liquidity incentives, buyback, and burn are all parts of the Step App token economy.
The governance token is the FITFI token, whereas the in-game token is the KCAL token. KCAL is utilized for shoe purchases and running income.
VI. How to earn & own FITFI?
Join SHO on fundraising platform.
VII. Which Crypto Wallets are suitable for FITFI?
updating…
VIII. FITFI Recent Developments
Q2 2022
Release of Genesis NFTs

Launch Beta
Q3 2022
Launch Mainnet

Launch NFT Marketplace
Q4 2022
IP and integration of partner products into the store

IX. Teams, Funds & Partners of FITFI
1. Team
2. Investment Funds & Partners
updating…

Conclusion
The above is Waytrade's comment on the Step App project which is our personal opinion, this is not investment advice at all. Investors should be responsible for their own decisions. 
___
Please continue to read new articles here about merchandise assessed by Waytrade.