I. What is Dotmoovs?
Dotmoovs is the first mobile peer-to-peer competition platform built on blockchain and uses state-of-the-art AI to analyze videos of players performing physical challenges. 
As a result, users can compete (challenge) against players worldwide if they have the necessary athletic abilities, ambition, and smartphone. The Dotmoovs will take care of the rest, using AI-based referees to judge each player's performance and determine the winner.
II. History of Dotmoovs
Dotmoovs is a blockchain-based platform that aims to revolutionize the sports industry by providing a decentralized ecosystem for sports enthusiasts. The platform is designed to enable users to participate in various sports activities and competitions while earning rewards in the form of cryptocurrency tokens. The platform was founded in 2021 by Dotmoovs OÜ, an Estonian company.
III. Striking Features of Dotmoovs
Anti-cheat
Ensuring fairness is crucial in sports, which is why Dotmoovs has developed a secure platform equipped with AI algorithms to detect and prevent fraud. By accessing the winner's video, the platform provides complete confidence in the outcome. Additionally, Dotmoovs employs AI-powered skill referees that impartially evaluate performance in various supported sports, ensuring accurate and reliable ratings for each player.
Positive Community Development Impact
Dotmoovs collaborates with renowned athletes, inviting them to serve as ambassadors, as well as engaging amateur athletes and sports enthusiasts. This inclusive approach ensures that the project caters to the needs of all individuals. Dotmoovs aims to create a fair ecosystem where communities can thrive, enabling the organization and hosting of matches, tournaments, and events. Furthermore, the platform allows the creation of unique NFTs, enhancing the sports experience and providing access to diverse options across multiple blockchains.
Dotmoovs seeks to unite athletes and players, regardless of their professional or amateur status. The platform aims to push boundaries, break records, and empower individuals to enjoy their favorite sports while also having the opportunity to earn income. Dotmoovs strives to grant athletes control over their beloved sports, enabling them to shape and influence their sporting journeys.
IV. Core Technology of Dotmoovs 
Dotmoovs Marketplace
The Dotmoovs Marketplace is an online platform where players from around the world can trade NFT items and sports equipment, including items like balls and shoes. To access most items and features on the Marketplace, players need to use MOOV tokens as payment.
NFT Buying, Selling, and Renting
Within the Dotmoovs Marketplace, players have the opportunity to buy, sell, and rent NFTs. When purchasing an NFT, players can choose to make an immediate purchase or participate in an auction where they can bid on the available NFTs.
Once players own an NFT, they can decide to rent it out to other players by listing it in the Rental section of the Marketplace. This allows players who don't want to go through the process of buying an NFT or spend extra money to simply rent an available NFT and start engaging in challenges on Dotmoovs.
Freestyle Football
Users can learn from skilled freestyle footballers and compete with other players by showcasing their ball juggling skills using various parts of their body such as feet, head, knees, and more. To achieve a high score, users must have practiced extensively.
In addition, users can also participate in challenges with professional football players like Ricardo Quaresma, a Portuguese winger who has achieved great success in his career. By partnering with Dotmoovs and using their MOOV tokens, players can engage in challenges alongside Quaresma and earn rewards, including MOOV tokens and even NFT items, for completing these challenges.
Dance
The Dance feature of Dotmoovs provides a platform for dancers to connect, practice, and challenge each other. Dancers can come together to exchange experiences, improve their skills, and participate in challenges. By completing these challenges, dancers can earn MOOV tokens and even NFT items as rewards. This feature not only provides an exciting and calorie-burning experience but also serves as a platform for dancers to showcase their talent and connect with others in the community.

V. What is MOOV?
1. Detailed Information about MOOV
Token Name: Dotmoovs

Ticker: MOOV

Blockchain: Ethereum

Contract: 0x24ec2ca132abf8f6f8a6e24a1b97943e31f256a7

Token Standard: ERC-20

Token Type: Utility

Total Supply: 1,000,000,000 MOOV
2. MOOV Allocation
MOOV tokens have a total supply of 1,000,000,000 tokens and are distributed as follows:
Ecosystem: 24%

Liquidity Funds: 24%

Private/Public: 32%

Team: 10%

Foundational: 10%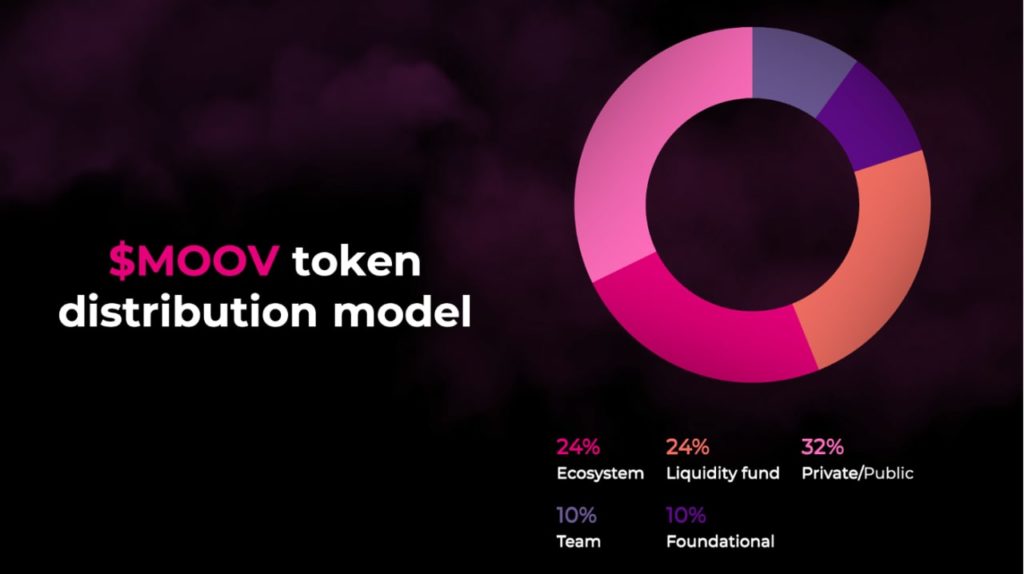 3. Use Cases of MOOV
VI. How to earn & own MOOV?
MOOV tokens are currently being traded on MEXC, Gate, PancakeSwap
VII. Which Crypto Wallets are suitable for MOOV?
There are several crypto wallets that are suitable for storing MOOV tokens. Here are a few examples:
MetaMask

Trust Wallet

MyEtherWallet (MEW)

Ledger Wallet

Trezor Wallet
VIII. MOOV Recent Developments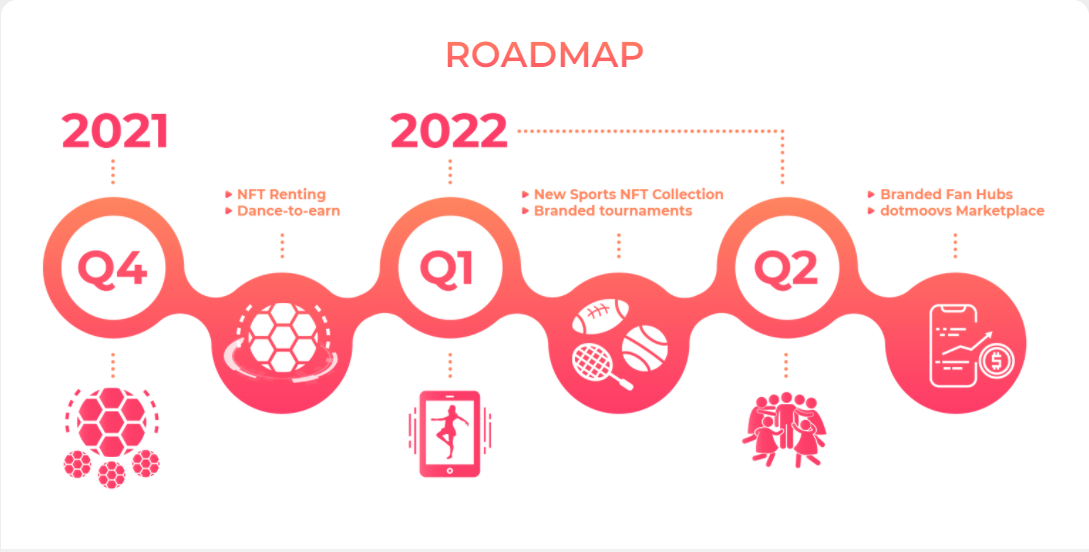 Token Release Schedule
Public sale: 100% at TGE

Private sale: 20% at TGE, then open 20% every 2 months

Team & Advisors: Locked for 1 year, then 25% unlocked every Quarter

Liquidity Fund: 20% at TGE, 10% per month for 8 months

Ecosystem: 20% at TGE, 10% per month for 8 months

Foundational Reserve: Locked for 1 year, then 25% is opened every Quarter
IX. Teams, Funds & Partners of MOOV
1. Team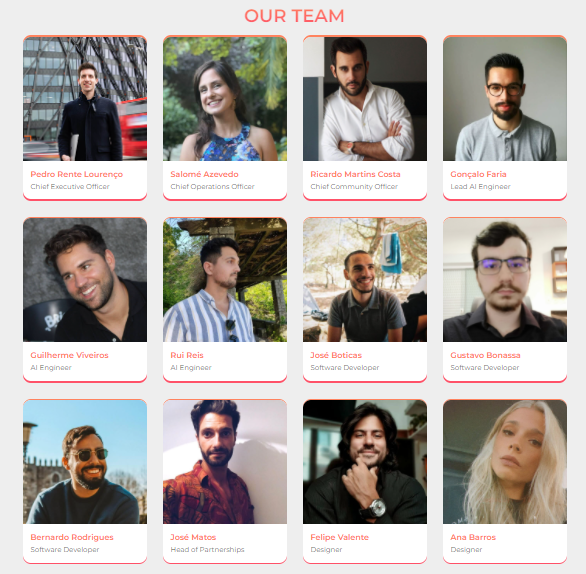 2. Investment Funds
&
Partners

Conclusion
The above is Waytrade's comment on the Dotmoovs project which is our personal opinion, this is not investment advice at all. Investors should be responsible for their own decisions. 
___
Please continue to read new articles here about merchandise assessed by Waytrade.