I. What is DIA?
DIA (DIA) is a Blockchain Protocol project that focuses on open-source data management, specifically in the field of Decentralized oracle networks. DIA aims to create a reliable bridge between various data sources to store off-chain data and Smart Contracts securely connected to each other, using available resources to deploy a variety of dApps. The project aims to build a modern and high-quality DeFi ecosystem by establishing a strong ecosystem, which can be referred to as the "Wikipedia of financial data", by bringing together Data Analysis, Data Providers, and Data Users.
II. History of DIA
DIA (Decentralized Information Asset) is a blockchain-based data platform that aims to provide reliable and transparent access to financial data. The project was launched in 2018 by Michael Weber and Paul Claudius, who saw the potential for blockchain technology to disrupt the traditional data management industry.
In October 2019, DIA conducted its initial coin offering (ICO), raising 2 million euros from investors. The DIA token, an ERC-20 token, was issued during the ICO and is used to access DIA's data feeds and services.
In February 2020, DIA launched its decentralized oracle platform on the Ethereum network, providing a secure and transparent way to obtain off-chain data for use in smart contracts. The DIA platform is designed to be highly scalable, with the ability to handle large volumes of data requests.
In December 2020, DIA formed a partnership with Polkadot, a blockchain platform that aims to provide interoperability between different blockchains. The partnership enables DIA to expand its oracle services to the Polkadot network, allowing developers to access a wider range of off-chain data sources.
In March 2021, DIA announced that it had formed a partnership with Yield Guild Games, a decentralized gaming platform. The partnership will enable Yield Guild Games to use DIA's data feeds to provide players with real-time market data for in-game assets.
III. Striking Features of DIA
DIA (Decentralized Information Asset) addresses the problem of transparency in the blockchain space, particularly in DeFi platforms. Currently, users are skeptical of DeFi applications due to the lack of disclosure of Smart Contracts sources and methodologies, which can make users hesitant to invest large amounts of assets. Oracles are third-party services that provide data to Smart Contracts, which are critical for the entire DeFi ecosystem. However, these Oracles are often unreliable and can create security vulnerabilities in DeFi projects.
DIA is a project that provides a transparent and reliable third-party solution for DeFi platforms. DIA does not directly create or manage data but instead relies on Stake activity of Token holders. Participants can participate in transactions and evaluate the quality of data similar to Wikipedia, and in return, they will receive Incentives with DIA Tokens. This solution is designed to complete the market in the best way possible and overcome the limitations of non-transparency and unreliable data sources in DeFi projects.
IV. Core Technology of DIA
DIA's working process involves several steps. 
Step 1:

participants can submit a claim and pay a reward to search for unpublished data on the DIA platform. Upon successful data provision and validation, the DIA Token rewards are given to the data requesters. 

Step 2:

data providers use the data request incentives to create a scan engine that connects to an API or on-chain data to provide the required data. 

Step 3:

the data analyst verifies the submitted set of codes through a betting mechanism. If the submitted data is suspected to be false, anyone can object to it by placing a DIA Token, and a voting process determines the right solution, with the deserving participant rewarded. Additionally, the council provides rewards to incentivize bug finders and error reporters to improve the platform structure. 

Step 4:

the verified data is stored in DIA's open-source database, ensuring that it is intact, immutable and published on the DIA platform. 

Step 5:

through on-chain Oracles or off-chain APIs, users can freely access the data, and DIA Token is used as an asset to pay for costs when accessing direct prices or APIs.
V. What is DIA Token?
1. Detailed Information about DIA Token
DIA Token is an official Native Token in the DIA ecosystem. The token was created primarily to support data collecting, validation, and voting on choices pertaining to the development of the DIA platform. A decentralized community of DIA Token owners and their delegates will run this coin.
Token Name: DIA Token.

Ticker: DIA.

Blockchain: Ethereum.

Token Standard: ERC20.

Circulating Supply – Circulating Supply: 56,634,600.

Total Supply – Total supply: 56,634,600.

Max Supply – Maximum supply: 200,000,000.

24 hour Trading Vol – 24 hour trading volume (December 1, 2021): $10,664,324

Market Cap – Market Cap: $105,411,088.

Contract: 0x84ca8bc7997272c7cfb4d0cd3d55cd942b3c9419
2. DIA Token Allocation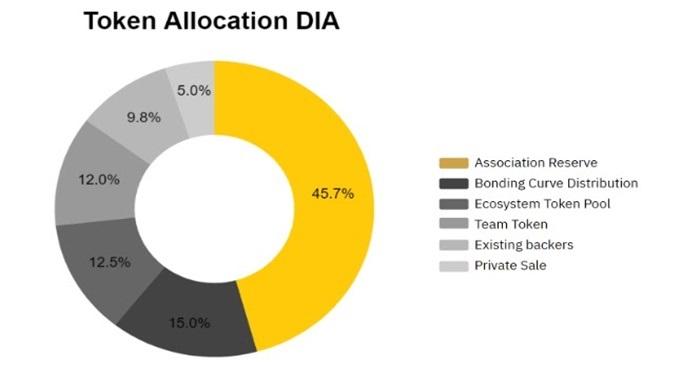 Ability to allocate DIA Tokens
Association Reserve: 45.7% Token allocated to DIA's data reserve.

Bonding Curve Distribution: 15% Token distribution for DIA's Bonding Curve trading model.

Ecosystem Token Pool: 12.5% Token allocated to the players participating in the Pool on DIA.

Team: 12% Token for the team to build and develop the project.

Existing Backers: 9.8% Token for fans, accompanying DIA.

Private Sale: 5% Token allocated for the transaction process, buying and selling through the Private Sale.
3. Use Cases of DIA Token
Promote platform development
The DIA community and DIA Token holders will be the team that determines the development of the DIA project. Any additional features, wishes, project promotion can be voted on by the DIA developer community as well as funded and developed.
Cost of obtaining data
Data users can establish bonuses for particular data requirements. The sources of particular datasets will be generated by data providers when they assemble a collection. The data provider will be paid a bonus after finishing the task.
Platform development and management
All decisions pertaining to the association and the DIA platform are made by voting, with DIA Token serving as the vote currency. Owners of tokens will be able to cast ballots and make comments.
Direct access to data or a particular API
All historical data is available for free, but DIA Tokens can be used to access live data streams and particular APIs.
Staking
Use the DIA Token as a motivator to promote the development of faster, more accurate Oracles using various calculating techniques.
VI. How to earn & own DIA Token?
Currently, DIA coin is listed and supported for trading on a number of exchanges such as: Gate.io, BKEX, Binance, OKX, AEX, KuCoin, Hotbit, XT.COM, Hoo.com, Coinbase Exchange, Uniswap, PancakeSwap, CoinEx, Sushiswap, Poloniex, BitMart,… In which, DIA coin is the most traded on OKX, accounting for 26.38% of the total trading volume. You can refer to and choose one of the exchanges above to buy and sell DIA coin.
VII. Which Crypto Wallets are suitable for DIA Token?
DIA is an ERC20 token. Therefore, you can safely store it on supported e-wallets such as: MetaMask, Myetherwallet, Trust Wallet, Atomic Wallet, imToken, Coin98 Wallet, Mycrypto, etc.
VIII. DIA Token Recent Developments
DIA Token has experienced significant growth recently. In mid-March 2021, the price of DIA was around $2.4, and it reached its all-time high of $6.05 on April 4, 2021. This price surge was due to the increased demand for decentralized finance and the growing need for reliable data oracles to support DeFi projects. The project has also been listed on several major exchanges, including Binance, Huobi, and OKEx, which has helped to increase its visibility and liquidity.
IX. Teams, Funds & Partners of DIA Token
1. Team
The DIA team is composed of experienced professionals in blockchain development, data analysis, and finance. They come from various backgrounds and have a wealth of experience in the industry. The team is led by Michael Weber, who has previously worked for PwC and is a co-founder of the BlockchainHub at the University of Zurich.
2. Investment Funds
DIA Token has received funding from several investment funds, including TRG Capital, CMS Holdings, and NGC Ventures. These funds are known for investing in innovative blockchain projects and have helped to support the development of the DIA platform.
3. Partners
DIA Token has also partnered with several companies and projects in the blockchain and DeFi space. Some of the notable partners include Chainlink, Kyber Network, and Polkadot. These partnerships have helped to increase the adoption and integration of DIA's oracle solutions into other projects and platforms.
Conclusion
The above is Waytrade's comment on the DIA project which is our personal opinion, this is not investment advice at all. Investors should be responsible for their own decisions. 
___
Please continue to read new articles here about merchandise assessed by Waytrade.