Look no further than W3DNA, the top project that allows you to buy NFT domains, names, and accounts in Web3 in any language on BNB, Polygon, and Ethereum. With W3DNA, you can forget about the limitations of traditional domain extensions like .crypto, .wallet, or .dao. Let's dive into the world of W3DNA and explore its exciting features and offerings.
Introduction: The Power of W3DNA
W3DNA is a revolutionary platform that empowers individuals, cybersquatters, KOLs (Key Opinion Leaders), and companies to register their unique domains, names, and accounts in the Web3 ecosystem. Gone are the days of relying on complex and hard-to-remember wallet addresses. With W3DNA, you can create a short and beautiful name that represents your online presence and identity.

Simplifying Crypto Transactions with W3DNA
One of the key advantages of W3DNA is its ability to simplify crypto transactions. Instead of sharing long, convoluted wallet addresses, you can now use your W3DNA domain to send and receive cryptocurrencies. This not only makes transactions more user-friendly but also enhances security by reducing the risk of human error when entering addresses.
Joining the W3DNA Community
Joining the W3DNA community opens up a world of possibilities. With over 30,000 users already leveraging W3DNA domains, you'll be part of a vibrant ecosystem that values uniqueness, simplicity, and accessibility. Whether you're an individual looking for a personalized online identity or a company seeking to strengthen your brand presence, W3DNA provides the tools and resources to make it happen.
Airdrops and Rewards for W3DNA Domain Holders
W3DNA values its community and rewards its domain holders with exciting airdrops and exclusive benefits. In the future, W3DNA will be airdropping free DNA tokens to users who have purchased a domain. This presents an excellent opportunity to be part of the project's growth and potentially benefit from the increasing value of DNA tokens.
Additionally, W3DNA offers a $40 discount coupon to users who create an account. Moreover, five lucky users have a chance to share a $70,000 coupon prize pool. These rewards and incentives make it even more enticing to become a member of the W3DNA community.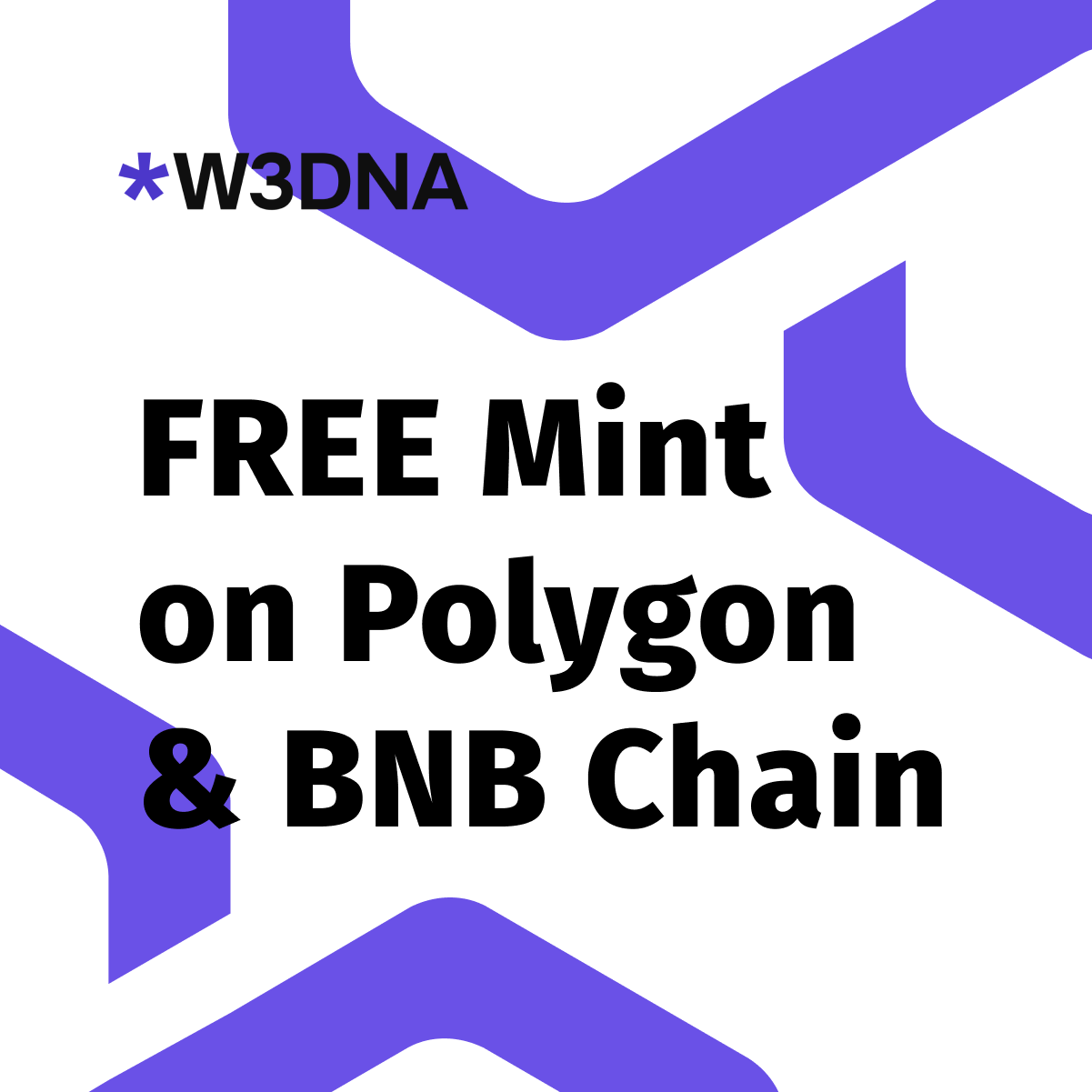 Step-by-Step Guide to Get Started with W3DNA
To get started with W3DNA, follow this simple step-by-step guide:
Step 1: Visit the W3DNA Gleam Page
Visit the W3DNA gleam page to access the airdrop and promotional offers.
Step 2: Submit Your Details and Sign Up
Submit your details on the gleam page and sign up to create your W3DNA account.
Step 3: Create an Account at W3DNA
Go to W3DNA and create an account. By signing up through the provided link, you'll receive a $40 discount coupon for your domain purchase.
Step 4: Refer Friends and Complete Gleam Tasks
Refer at least one friend to Gleam and another friend to W3DNA using your referral link. By completing all the gleam tasks, you can earn an additional $10 coupon.
Step 5: Buy and Mint Your First Domain
Once you have completed the previous steps, you can proceed to buy and mint your first domain on the W3DNA platform. This will be the starting point of your exciting journey in the Web3 world.
FAQs
Q1: Can I register a domain in any language with W3DNA? Yes, W3DNA allows you to register a domain in any language, providing you with the flexibility to express your identity in a way that resonates with you.
Q2: What are DNA tokens, and how can I get them? DNA tokens are the ecosystem token of W3DNA. In the future, W3DNA will airdrop DNA tokens to users who have purchased a domain. By becoming a domain holder, you have the opportunity to receive DNA tokens.
Q3: How do I participate in the W3DNA airdrop? To participate in the W3DNA airdrop, create an account, complete the gleam tasks, and purchase a domain. The specific details and allocation of tokens will be announced in due course.
Q4: Can I transfer my W3DNA domain to another user? Yes, W3DNA allows you to transfer your domain to another user, providing you with flexibility and ownership control.
Q5: What advantages do W3DNA domains have over traditional domain extensions? W3DNA domains offer a more personalized and user-friendly approach compared to traditional domain extensions. You no longer have to choose between various extensions like .crypto, .wallet, or .dao. Instead, you can register a unique domain that suits your needs without being bound by specific extensions.
Conclusion
W3DNA revolutionizes the way we interact with the Web3 ecosystem by providing an intuitive and user-friendly platform for buying NFT domains, names, and accounts. With W3DNA, you can create a short and memorable domain that represents your online identity and simplifies crypto transactions. Join the ever-growing W3DNA community today and embrace the future of decentralized web services.
___
Please continue to read new articles here about merchandise assessed by Waytrade.