Sony's "Spider-Man: Across the Spider-Verse" captivated viewers in a much awaited return to the big screen, earning an amazing $120.5 million at the domestic box office. The "Spider-Man: Into the Spider-Verse" sequel, which won an Academy Award, had the second-largest opening of 2023, only below Universal's "Super Mario Bros. Movie."
The movie's success goes beyond the theaters, as it also had the third-best opening weekend of any Spider-Man picture, live-action or animated. "Across the Spider-Verse" attracted nearly 9 million moviegoers, capturing the curiosity of a broad audience. According to Paul Dergarabedian, senior media analyst at Comscore, the beloved character and the series will remain popular through generations because of its attraction to younger audiences in addition to the core audience of the live-action films.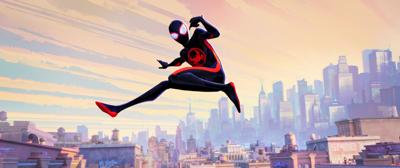 EntTelligence data shows that from Thursday through Sunday, "Across the Spider-Verse" was responsible for around 56% of all theater foot traffic. Furthermore, 29% of viewers voluntarily paid an additional $4.52 per ticket to see the movie in a premium format.
The movie's success, according to Shawn Robbins, chief analyst at BoxOffice.com, is proof of the audience's appetite for new and daring superhero and animation film interpretations. Sony's animated Spider-Man sequel comes after a run of successful box office debuts, including Disney and Marvel's "Guardians of the Galaxy: Vol. 3" and Disney's "The Little Mermaid."
"Guardians of the Galaxy: Vol. 3" kept bringing in crowds over its fifth weekend, bringing in an extra $10.2 million in ticket sales and hitting a domestic gross of $322.7 million. The movie has made $780.1 million worldwide.
From its first to its second weekend, "The Little Mermaid" had a normal 58% reduction in ticket sales, adding $40.6 million to its overall cumulative income. The movie continues to have success at the box office with domestic ticket sales of $186.2 million and international box office receipts of $326.7 million.
Disney's "The Boogey Man," which opened with $12 million in domestic ticket sales, and Universal's "Fast X," which has already grossed $128.4 million domestically, are two more noteworthy releases.
According to Comscore, the domestic box office for the first half of the year is around $3.6 billion, just 21.9% less than prepandemic levels. The 2023 box office has increased by 27.9% when compared to the same time in 2022.
According to Shawn Robbins, the summer market is expected to be the most exciting in four years as a result of the successful debut of "Spider-Man: Across the Spider-Verse," the ongoing success of "Guardians of the Galaxy: Vol. 3," the tenacity of "The Little Mermaid," and the excitement surrounding upcoming releases.