Despite the recent rise in IT stocks, SoftBank, a Japanese company, has experienced a record loss for its Vision Fund. For the fiscal year that ended on March 31, the Vision Fund division reported a loss of 4.3 trillion Japanese yen ($32 billion), up from a loss of 2.55 trillion yen during the same time the year before. The corporation lost 5.28 trillion Japanese yen total on investments made via its Vision Funds, compared to 3.43 trillion yen the year before. Even while tech equities have risen this year, they are still generally down from a year ago, with the Nasdaq 100 index, which is heavily weighted toward technology, down by nearly 11% during SoftBank's fiscal year.
SoftBank's net loss for the fiscal year decreased from the 1.7 trillion loss in the same time the previous year to 970.14 billion yen. Despite profits from selling assets in well-known businesses like ride-hailing firm Uber, the company saw losses in the share prices of Indonesian ride-hailing and e-commerce company GoTo and Chinese artificial intelligence firm SenseTime.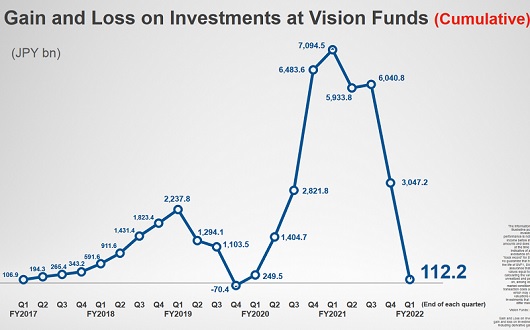 To raise money over the last year, SoftBank has sold off some of its most well-known assets. Through the selling of its T-Mobile and Alibaba shares, the business reduced its total losses. After founder Masayoshi Son earned his money with an early investment in Alibaba more than 20 years ago, SoftBank continues to sell part of its shares in the latter business via a derivative called a forward contract. It announced in August that it had sold the last of its shares in US ride-hailing juggernaut Uber.
SoftBank's Vision Fund, which consists of Vision Fund 1 and Vision Fund 2, invests in high-growth firms. These stocks have been hit by the sell-off of risky assets like tech as a result of increasing interest rates throughout the world. Rajeev Misra, a senior partner of SoftBank and its chief executive, reduced his involvement in various areas of the business due to growing losses. The Vision Fund was established in 2017, and Misra played a key role in its early stages.
For over a year, SoftBank has been operating in "defense" mode, tightening up its investment policies in the face of challenges. The rise in tech equities looked to be aiding this strategy during SoftBank's fiscal fourth quarter, which ran from January to March. Compared to the previous quarter's investment losses of 730.3 billion yen, SoftBank's Vision Funds saw losses of 236.8 billion yen.
In its fiscal year, SoftBank reported making $3.14 billion in new or follow-on investments, a decrease from $44.26 billion in the same time the year before. Investors are now looking at SoftBank-owned British semiconductor maker Arm's IPO as a method to strengthen the business's balance sheet and perhaps provide it with more funding for further projects. Arm submitted a private application for a US listing last month. Arm has earlier said that it preferred to list in the US than the UK, hurting the London Stock Exchange. In 2016, SoftBank and Arm reached an agreement. Arm reported fiscal year revenues of 381.7 billion yen, an increase of more than 27% from the previous year. Pre-tax earnings for the corporation increased by 18% on a yearly basis to 48.6 billion yen.