8 August 2023 A number of heat records imply that the earth has entered unknown area of warming, and the climate change office of the European Union, Copernicus, has revealed that both air and ocean temperatures globally surged to historic levels in July.
The worldwide average surface air temperature for July has been officially certified as the highest on record for any month, according to Copernicus Climate Change Service (C3S), which made the announcement on Tuesday. Astonishingly, July was 1.5 degrees Celsius warmer above the norm for the 1850–1900 time period and 0.33 degrees Celsius warmer than the previous hottest July ever recorded in 2019.
Additionally, during July, sea surface temperatures throughout the world remained on the rise. The planet's average sea surface temperature for July was 0.51 degrees Celsius higher than the norm for the period between 1991 and 2020, capping off an extended run of extremely high temperatures since April.
The information, which was produced from measurements taken by satellites, ships, airplanes, and weather stations throughout the globe, is the result of a string of heatwaves that have broken records in several areas. While South American countries struggled with record-breaking heat throughout their winter season, Europe, North Africa, the Middle East, and Asia have all recently suffered sweltering weather.
Deputy Director of C3S Samantha Burgess emphasized the urgent need for bold efforts to reduce global greenhouse gas emissions, which are the main causes of these extreme weather patterns. She emphasized the dire implications of these record temperatures for communities and the environment.
Together, C3S and the World Meteorological Organization of the UN declared the first three weeks of July to be the warmest three-week span ever recorded.
Scientists say the necessity of promptly and drastically lowering greenhouse gas emissions is highlighted by the acceleration of record-breaking temperatures around the world. The need to address climate change is starkly underscored by the frequency and severity of severe weather occurrences.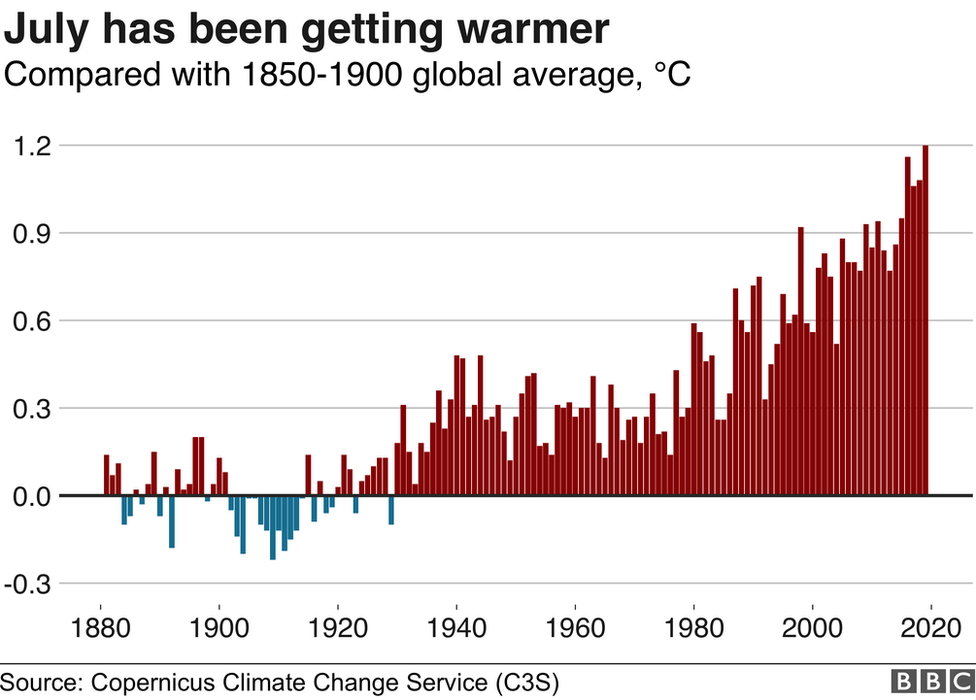 The third-hottest year on record so far, according to C3S, 2023 saw temperatures that were 0.43 degrees Celsius higher than the long-term average. In the next months, it is anticipated that the difference between this year and 2016, the warmest year on record, will decrease. This prediction is based on the fact that late 2016 was comparatively colder than the rest of 2023, which is expected to be warmer because to the current El Nio phenomenon.
The United Nations meteorological office proclaimed El Nio, a naturally occurring climatic trend that raises worldwide temperatures, on July 4. Its reappearance prompts worries about the possibility of severe weather.
On July 27, Secretary-General António Guterres gave a speech to the United Nations and issued a stern warning, declaring, "The era of global boiling has arrived." In order to stop the deteriorating situation, Guterres stressed the clear human responsibility for climate change.