On Tuesday, there were swings in the price of cryptocurrencies as long-dated government bond rates fell sharply globally, mostly due to dismal Chinese trade data for July. This change occurs just after PayPal recently revealed that it will soon begin issuing stablecoins.
Within the last day, Bitcoin (BTC) increased by almost 3%, hitting $30,068, helping the CoinDesk Market Index (CMI) post a remarkable 2.9% gain. With this increase, Bitcoin has once again surpassed the $30,000 milestone, as it temporarily did on August 3. Solana (SOL), Toncoin (TON), and Chainlink (LINK) are noteworthy movers on Tuesday, each seeing gains of over 5%.
Concerns have been raised by China's disclosure of a 12.4% year-over-year loss in imports for July, which is more than double the projected decline, along with a 14.5% decline in exports, which indicates the worst numbers since the COVID-19 lockdowns. Analysts believe Beijing may need to take extra steps to bolster its economy.
The 10-year Treasury yield for the United States also decreased sharply, falling by 11 basis points to 3.98% from its most recent high of over 4.20% in 2023. This move was matched by European markets, with the German 10-year Bund yield falling by 15.4 basis points to 2.445%.
President of the Philadelphia Federal Reserve Patrick Harker expressed satisfaction with the central bank's decision to hold off on additional rate increases until fresh information suggests otherwise in a separate economic briefing. He also said that discussing rate decreases is still a long shot.
Despite the unveiling of PayPal Stablecoin, optimism still
As the first large financial institution to issue its own stablecoin, PayPal's launch of its own stablecoin (PYUSD) on Monday sparked a range of market reactions. Users will be able to transfer PYUSD between PayPal and approved third-party digital wallets, facilitating the exchange of PYUSD for approved PayPal cryptocurrencies as well as transactions for products and services.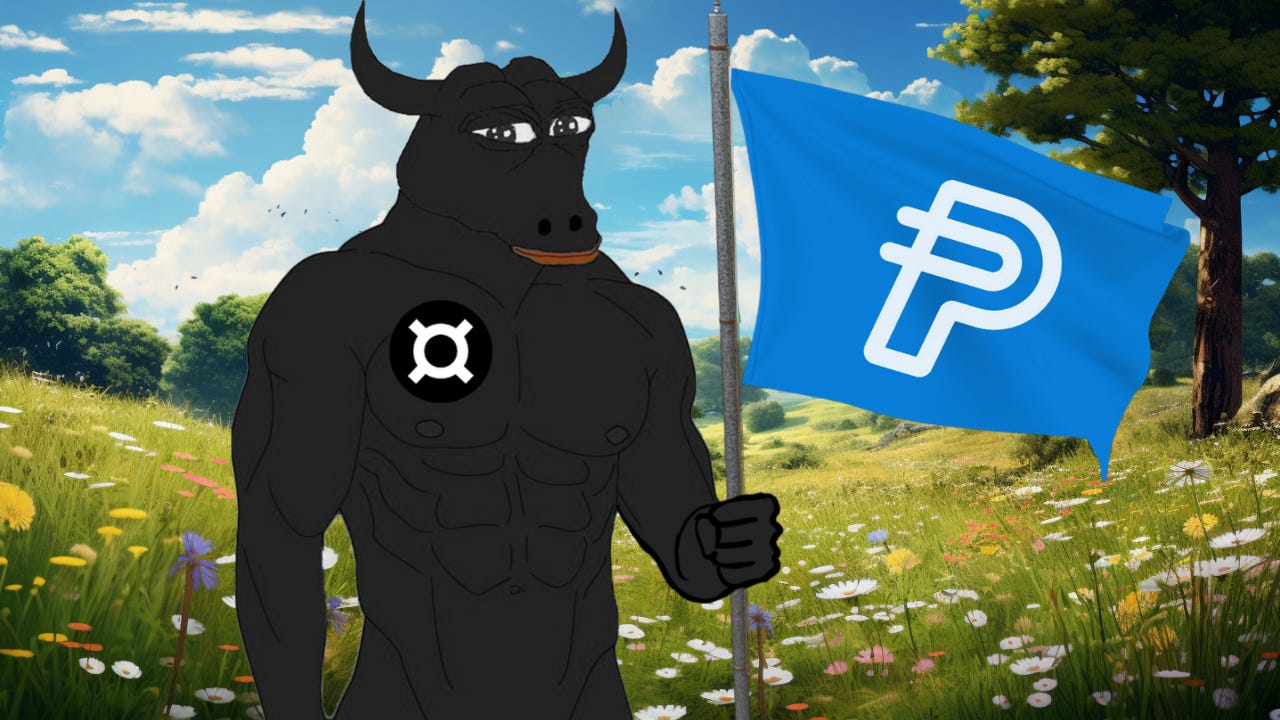 The launch of PayPal's stablecoin was highlighted by Jeff Mei, Chief Operating Officer of cryptocurrency exchange BTSE, who called it a crucial breakthrough in the world of digital money. He emphasized its potential to promote more fusion between conventional financial institutions and the world of cryptocurrencies. Mei expressed hope that American fintech and payment firms would explore digital currencies if authorities respond favorably.
HBAR by Hedera Hashgraph Takes the Lead
The native token of Hedera Hashgraph, HBAR, which meets the security and stability requirements of big organizations, has increased by more than 10% over the last day, outpacing Tuesday's advances in other cryptocurrencies. According to likes, retweets, comments, and involvement from significant accounts, HBAR's social media activity increased by 240% over the previous week. In the previous month, the token has grown by about 30% overall, with notable social engagement surges signaling market activity and consequent price changes.