In recent years, politicians and intelligence authorities have focused their attention on ByteDance's TikTok because they are worried about possible espionage operations. However, identical concerns also apply to other Chinese applications that have become quite popular in the US.
The main cause of these worries about ByteDance is a Chinese national security statute that gives the government extensive access to corporate information for purported national security objectives. Lawmakers and intelligence officials in the US are concerned that Chinese-based software developers may provide the Chinese government access to enormous quantities of information gathered from American users, such as email addresses, user interests, and even information from driver's licenses.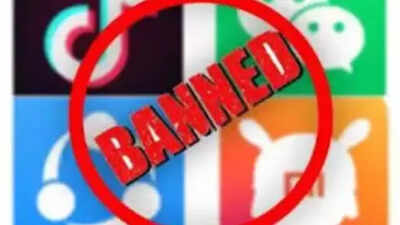 Many US users still choose Chinese applications despite these worries. For instance, in late May, the Apple App Store ranked Temu, a shopping app owned by PDD Holdings of China, as the second-best free app. Additionally, the applications CapCut and TikTok, which are owned by ByteDance, are ranked fourth and fifth, respectively, in the App Store rankings. A Chinese quick fashion company named Shein comes in at number 14.
Nearly 1 million US users downloaded ByteDance's Lemon8, an app comparable to Pinterest and Meta's Instagram, between March and April. Similar to TikTok, these applications offer features that have sparked worries about data security, user privacy, and targeted advertising. Experts contend that these applications' lower user bases compared to TikTok's enormous audience of 150 million monthly active users in the US alone account for a significant portion of the lack of attention paid to them.
Temu has 67 million downloads, Lemon8 has 1.2 million downloads, and ByteDance's CapCut has 99 million downloads in the US. Shein has 855 million more downloads than TikTok among these applications since its inception in 2014, although it should be remembered that Shein has been accessible for a longer time. However, it is believed that Shein has over 22 million active users per month.
The Alliance for Securing Democracy at the German Marshall Fund, where Lindsay Gorman is a senior fellow for new technologies, highlights the need for a methodology to evaluate the relative danger of Chinese applications based on variables including scale and app kind. Gorman says that the US shouldn't depend on authoritarian governments for such components, comparing Chinese technology platforms' capacity to represent crucial information infrastructure in a democracy to power grids or energy infrastructure.
US users still download and use Chinese applications in spite of the worries surrounding them. Temu and CapCut frequently rank among the top downloaded applications, demonstrating the US market's continued interest in Chinese apps. However, compared to social media platforms like TikTok, the chances of disseminating damaging false information may be smaller for e-commerce applications.
However, there are good grounds to be worried. Recent reports have called attention to malware problems at Temu's sibling business Pinduoduo, and concerns have been voiced regarding Shein's suspected use of forced labor and a tariff-avoiding import loophole. Concerns regarding Shein's methods, links to forced labor, and import practices have been expressed by the organization Shut Down Shein.
Numerous suggestions have been made, such as the RESTRICT Act, which may result in the prohibition of TikTok and other Chinese technologies. However, detractors contend that certain solutions can have unintended effects and push for creating conditions that encourage the development of strong competition for Chinese applications.
Some analysts contend that the priority should be on ensuring an equal playing field for American and European businesses, even if a ban on TikTok may favor already-existing US digital giants like Meta's Facebook and Instagram. through promoting the growth of competition.